By Jacob Bourgeois; Twitter: @JacobBourgieFFB
Premises:
RBs get injured.
There are 17 games in 2021.
Conclusion:
Names will emerge to fantasy relevance from the depths.
To consider this a deep dive I've removed the top 2 RBs for each team (no Darrell Henderson, Tony Pollard, Jamaal Williams, AJ Dillon). We're starting with each team's 3rd best RB option. But to pick a third best RB on a team is a bit presumptuous. So be it. To choose which player to put third I've applied some Criteria:
Extra points if you're an unknown but have a decent college profile.
Minus points if everyone knows your name and you're still third on a depth chart after 3 or more years.
Minus points if you've gotten a chance already and done little with it.
Finally, I've categorized each RB3 according to their kind and then ranked them within their respective category. Before we begin, a cautionary word of advice – these are late fliers and $0 FAAB guys on waivers if you have space (except maybe the first one) … that is until the injuries mount.
All stats from www.sports-reference.com.
New Cars:
(Rookie RBs.)
1 SFF – Elijah Mitchell (Louisiana, fast/athletic 5'11, 217 lbs 6th round pick 6.2 YPC)
He's one of the more complete backs out of this rookie class with the best situation. Trey Sermon feels a lot like Jeff Wilson and Mitchell reps a pretty good Mostert. If we keep Gallman at bay, this could be a lucrative speculation.
2 DET – Jermar Jefferson
A lot of love for Jermar pre-landing spot and draft capital, he's another productive college runner – doesn't pop on film for me and strikes me more as poor man's Jamaal Williams than Swift.
3 CIN – Chris Evans
I have him ahead Perine, but we all know Perine will be out there first. As NFL suitable a runner as I've seen – burst and agility, patient, follows his blocks, good hands, but runs too high.
4 WAS – Jaret Patterson
Jet Pack Patterson – is diminutive like most of the stars in this rookie class but was uber (Jonathan Taylor level) productive in college, but alas in a nothing conference. Still must prove himself against the big boys, but my favorite deep stash (I'm also somewhat diminutive) by a long mile.
5 CHI – Khalil Herbert
A nod to Damien Williams who I liked in KCC and continue to like in CHI as the number 2. Khalil was the very first prospect I eval'd this year and I immediately liked him. I've cooled a little since then for two reasons, he lacks explosiveness and any elite traits (but is strong and shifty), and because 6th round draft capital for a super senior (23 yo) doesn't correlate well to upside. That said he takes whatever you give him for yards – very Rex Burkhead-esque.
6 GBP – Kylin Hill
A middling athlete with typical size for a RB who loves jumping things doesn't go down easy (picked 7th rd, 256th).
7 MIN – Kene Nwangwu
4th round draft capital ahead of all other rookies on this list. He was fast and productive on limited ops in college, should retain a roster spot as a return man.
8 LAR – Jake Funk
UDFA out of Maryland, 5'10, 205lbs, 7.2 YPC, in limited use. Brings athleticism, agility, and speed.
9 MIA – Gerrid Doaks
The hate for Myles Gaskin's 2020 season knows no bounds, but I'm a believer, and liked what I saw out of Salvon Ahmed as well. That said, Miami's 7th rd 244th pick Gerrid Doaks' 5'11, 228 lbs, 5.2 YPC out of American U. has a lot of people excited.
10 LAC – Larry Roundtree
Justin Jackson when Healthy is the second-best rusher on the team. He's not ever been healthy, which is good for Larry. Josh Kelley proved to be JAG. Larry is another 6th round pick with high usage coming out of Missouri. But still, the late declare, 6th round pick, invisible athleticism and efficiency all point to: just grab Jackson.
11 ATL – Caleb Huntley
5'10, 215, 5 YPC on 576 carries at Ball State; Huntley is a slow, meh athlete, but that might be good enough on this team.
New Car Smell:
(Second year RBs.)
12 TBB – Ke'Shawn Vaughn
Ke'Shawn was decent in college and in spots last year on the Bucs (76th pick of 2020 draft [highest on this list from his class]). He has upside if he's called upon but Gio being there makes his breakout seem less likely. We may learn more as rosters get cut down.
13 TEN – Darrynton Evans
Brian hill has been good in all of his chances in ATL but no one cares and it pisses me off. Evans was the backup to the backup his rookie season and still needs to prove he's more than that. He has a nice athletic profile so could explode if he can run the football in the NFL.
14 NEP – J.J. Taylor
James White will score an annoying amount of fantasy points this year, capping the breakout potential of J.J. Taylor. Sony Michel is the true handcuff to Damien Harris if he goes down (but might get cut and wind up starting somewhere else…). And Rhamondre Stephenson (RB2) may be considered the future with J.J. complimenting. Taylor looked explosive in limited chances in 2020 – he's a poor man's small Rex Burkhead.
15 PIT – Anthony MacFarland
The hype is about his speed and because he played college ball with Tomlin's son. I'd eye on his upside over Benny Snell's steady Eddie.
16 NYJ – Lamical Perine
Did little, but on a terrible team so how much is he to blame. My guess is he disappoints further, and Coleman is more of the RB3 on this team behind the fast Johnson and epic Carter.
17 BAL – Ty'Son Williams
Ty'Son is your real unknown. He's the one on this list who could become a Raheem Mostert. He moved around in college (UNC, USC, then BYU) and went undrafted in 2020. He's a bigger back at 6' 220 lbs but has been stuck on and off the practice squad. I'd rather him than Justice Hill.
18 ARI – Eno Benjamin
It turns out local hero (AZST) 7th round pick didn't earn any snaps in 2020, after only 4.3 YPC in his senior year.
19 DAL – Rico Dowdle
Rico "3.4 YPC" Dowdle is what is happening behind Zeke and Tony, which bodes well for Zeke and Tony.
Certified Pre-Owned:
20 IND – Marlon Mack
Hines will have some standalone value and limited upside, where Mack could shoulder a full load with demonstrated success if Taylor were out.
21 CAR – Reggie Bonnafon
This is your true post-hype sleeper. I don't know why he didn't get to go ahead of Mike Davis, but he didn't. He went undrafted out of Louisville in 2018 and was the handcuff de jour last offseason. Now he's buried behind CMC and Chuba so the road is windy.
22 PHI – Kerryon Johnson
Give me Kerryon over Boston Scott, where KJ is to Sanders what Gainwell is to Scott (or vis versa). IF Johnson can stay healthy, and IF he hasn't wrecked himself physically or psychologically from all his prior injuries, then he could be good.
23 SEA – Alex Collins
Last time we saw Alex he was tap-dancing in Baltimore. There's DeeJay and Travis as well, Travis has done more in opportunities than DeeJay.
24 CLE – D'Ernest Johnson
Has put up 5.1 YPC for the Browns when called upon (37 NFL rush attempts), + decent hands on a 5'11 200 lb frame. Would get the first looks after Chubb and Hunt, but won't "run away with the job" (see what I did there).
Certified Pre-Owned: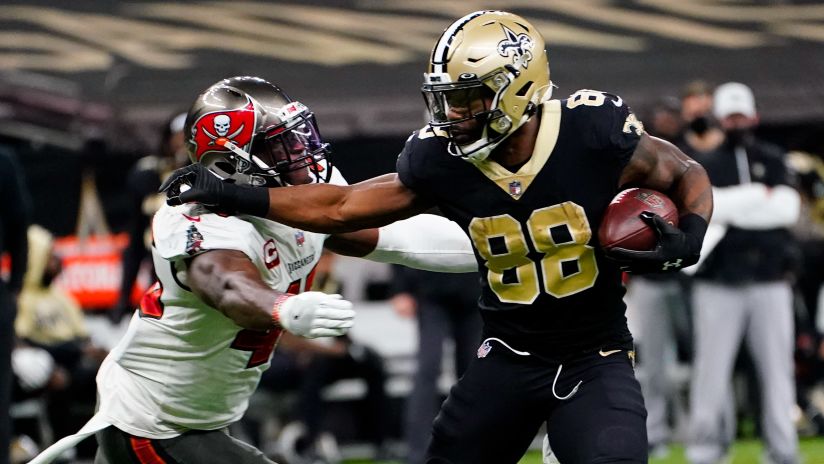 25 DEN – Mike Boone
Freeman will get first look of the two, but Boone offers more with smaller stature. Boone has more NFL efficiency and is a less known entity in a new spot.
26 NOS – TY Montgomery
Was efficient when called upon.
27 BUF – Matt Breida
Breida seems lost without Shanahan, was bad in Miami but is the only speedy guy on this roster.
28 KCC – Jerick McKinnon
Jerick is washed from injury but a capable pass-catcher. Darwin, despite his early hopes, just hasn't been good enough to play on this team.
29 HOU – Mark Ingram
Ingram is old. Rexy is old. Both could pop in spots but no lasting value to be had.
30 JAX – Dare Ogunbowale
Hyde has been on the decline since Cleveland. Dare's best season is also probably behind him as well.
31 LVR – Jalen Richard
Jalen Richard and Theo Riddick are both capable compliments.
32 NYG –Devontae Booker
Whatever is happening when Saquon goes down, it won't be good. I have Ryquell at RB2 so Booker out of Denver is your RB3 over Clement out of PHI.